Mama Stoen's Angel Food Cake with Jell-O
Makes: 9x13 pan
Need:
1 Box of Mama Stoen's Angel Food Cake Mix (2 cups of egg whites and 3 tsps. of vanilla)
1 3oz box of strawberry Jell-O (1 cup boiling water and 1/2 cup cool water)
Cool Whip
Directions:
Bake Mama Stoen's Angel Food Cake Mix as directed on the back of the box. Pour the cake mix into a greased 9x13 pan. Bake for approximately 42 minutes. Once, the cake is spongy on the top you will know it is done. Let the cake cool for about 15 minutes. While, the cake is cooling, boil 1 cup of water on the stove. Pour boiling water into a bowl, add the strawberry Jell-O, and 1/2 cup cold water. Stir until the gelatin mix is completely dissolved. Set aside. Make 1 inch cut marks throughout the cake. This will allow the Jell-O to seep into these cuts. Pour all of the Jell-O over the cake and allow to cool in the refrigerator for 2 hours. Top the cake with cool whip. Enjoy!!!!!!!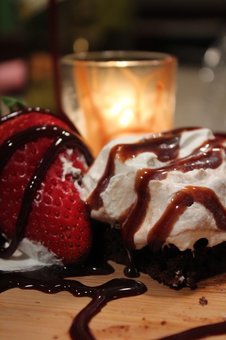 Mama Stoen's Pudding Chocolate Cake
Makes:
9x13 Pan
What you need:
Mama Stoen's Chocolate Cake Mix
1 box of Chocolate pudding
Cool Whip
Chocolate Syrup
Directions:
Make Mama Stoen's Chocolate Cake per instructions on back of box. Once, it is done baking allow to cool.
Once, cake has cooled take a wooden spoon and poke several holes in cake every 1/2 inch.
Make 1 package of chocolate pudding and pour over cake. Make sure to cover all of the holes. Put in the fridge until cool.
Top with cool whip and drizzle chocolate syrup over cake.
Make sure to keep cake in the fridge when you are not eating it.
Enjoy!!!!!
---
Gluten Free Pumpkin CookiesPreheat oven to 350 degreesWhat you will need:Mama Stoen's Carrot Cake Mix
½ tsp. Ground cloves½ tsp nutmeg½ cup softened butter1 cup pumpkin1 egg1 tsp. Vanilla

In a mixing bowl add Mama Stoen's Carrot Cake Mix, ½ tsp. ground cloves, and ½ tsp. nutmeg. Mix these ingredients together.
Then add to the mixing bowl the ½ cup softened butter, 1 cup pumpkin, 1 egg, and 1 tsp. vanilla. Mix all of these ingredients together until there are no lumps.
Drop a spoonful of batter onto a greased cookie sheet-- repeat this until you fill the cookie sheet up. Make sure you space all the cookies equally apart.
Bake for approximately 14 minutes. (They will be done when the center of the cookie is spongy)
Cool the cookies on a cookie rack.
Makes around 2 dozen cookies.

Icing recipeWhat you will need:

2 cups Powdered Sugar

3 Tbsp water or milk

1 Tbsp melted butter

1 tsp. Vanilla

Mix the above ingredients together until all lumps are gone. Once, the cookies are cooled spread the icing on each cookie.
Gluten-Free Pumpkin Bars

What you will need:
Mama Stoen's Carrot Cake Mix
2 eggs
½ cup buttermilk
½ cup softened butter
2 tsp. Vanilla
15 oz can of pumpkin
¼ tsp. Cinnamon
½ tsp. Cloves
​
1. Preheat oven to 350 degrees. Grease a 9x12 pan.
2. Mix all above ingredients together in your mixer until well mixed.
3. Pour batter into the greased 9x12 pan.
4. Bake 20-30 minutes. You will know when it is done when the center of the bars are spongy. (Baking times will vary)
5. Frost with cream cheese frosting.


Waffle Cookies sprinkled with powdered sugar


Chocolate Waffle Cookies

What you will need:
1 Box Mama Stoen's Chocolate Cake Mix
1 Box Mama Stoen's Cookie Mix
1 stick of butter, softened
3 Eggs
¼ Cup oil
1 Tablespoon Vanilla
½ Cup Milk
⅔ Cup hot water
1. Mix all the above ingredients together in large mixing bowl on medium speed for 2 minutes.

2. Add ½ cup Mini Chocolate Chips (not the regular chips)
3. Heat Waffle Iron to Medium High setting. Spray iron with cooking spray. Using a tablespoon drop batter onto the iron, one tablespoon in each section (four in all).
4. Shut the top and turn the pan. Bake each side for about 1 minute. These cookies are best if they are not cooked too long. Cool on a rack and then sprinkle with powdered sugar.
Makes about 4 dozen cookies.


Recipe for Carrot Cake In The Crockpot
​
This is what it will look like over icecream

---

Recipe for Carrot Cake in the Crock Pot

​
1. Open 2 cans of your favorite fruit filling-I like to use apple pie filling. Pour this into the crock pot.
2.. Open Mama Stoen's Carrot Cake mix and sprinkle the entire package over the filling of choice.
3. Last, add 2 sticks of melted butter over your mix.
4. Cook on high for 2 hrs. (Cooking temp can vary crock pots) so may need to turn to low as time gets to the end. Make sure to stir occasionally.
5. Enjoy, I like to serve this with ice cream and it is a great recipe with little effort needed.